Protect Line is one of the UK's leading life insurance brokers, providing financial security to 270,000+ families if the unexpected was to happen. Founded in 2010 by a husband and wife team, the business has grown with pure passion and entrepreneurial drive, now employing more than 230 team members primarily based in the South of England.
Since day 1, Protect Line has primarily relied on third-party providers and agencies to generate leads. This has generally worked, although there are many disadvantages such as lacking control of the complete customer experience and forgoing valuable data required to make important commercial decisions.
In 2020, Protect Line decided to invest in an in-house performance marketing team and start the process the generating first party leads. The team found initial success with advertising on Facebook and Instagram, keeping the cost per lead at a desirable amount. However, despite the commercial success of the activity, the team struggled with scaling to meet the businesses required lead supply. This wasn't helped by the introduction of iOs14, which made social media advertising increasingly more expensive and ineffective in 2021. Coming into 2022, the team knew they needed to try something different.
Protect Line's marketing team chose to advertise on Google, despite the extremely high cost and competitiveness of this activity within financial services. In fact, the cost of one click on some keywords is equivalent to 200+ unique clicks on a Facebook advert.
The team recognised that for the best chance of success the attitudes and behaviours of customers needed to be considered at every step of the journey. Concluding that most people in the UK are more familiar and comfortable with comparison websites, as opposed to brokerage firms, the team created a new comparison style brand for search: Compare The Quote.
A new Google account was started and, as expected, the cost of advertising was a loss making activity at first. However, unlike when relying on external lead generation partners, the team now owned the whole customer journey through the Compare The Quote brand. Every part of the journey was monitored and tweaked, from small changes to the enquiry forms to significant changes such as how the phone call was delivered.
Protect Line's marketing team put everything into their search campaign. From advertising copy, to design, automated emails, customer appointment booking journeys… no stone was untouched in making sure the campaign would be a success.
Stakeholder engagement was also extremely important, ensuring everyone from senior management to the sales teams delivering the application service were fully onboard with the new activity. Office branding was updated, and merchandise including mugs to hoodies was gifted around the company.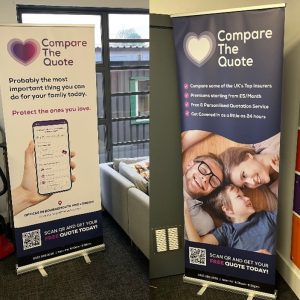 To get the Protect Line team excited for the campaign, office branding was updated.
To further optimise the Compare The Quote search campaign, the marketing team utilised Google's smart bidding, supported by a dedicated API, helping the team to flip the campaign objective from a Cost Per Lead to a target ROAS.
Upon reaching scale, the team took best practice advice on utilising Google Performance Max advertising slots. Whilst PMAX can automatically generate videos by displaying images and text together over music, for significant impact the team knew they had to go above and beyond to create something special.
Reaching out to real people who had previously made life insurance claims and would be willing to share their experiences, Protect Line then hired the services of a professional film crew to film heartfelt true stories of how life insurance has such a positive impact on people's lives. The video adverts were many minutes long, which is rarely seen on platforms such as Youtube. However, after analyising viewer behaviour and editing as appropriate, the team ended up with quality content which was watched to the end by tens of thousands of individuals. These videos, used in both customer acquisition and retargeting, made a significant impact to the overall campaign's profitability.
In early 2023, Protect Line was able to successfully make the switch to 100% self-generated leads for the first time in its operating history.
"In an industry dominated by publicly listed companies with multi-million pound marketing budgets, a relatively unknown and independently owned broker has been able to dominate the paid search results for life insurance, whilst turning a profit, and successfully scale it into a lead funnel feeding 150+ full-time sales agents every day." – David Brewer, Chief Executive Officer at Protect Line
The comparethequote.co.uk campaign is so much more than a landing page and keyword bidding; it is a whole brand and working culture specifically designed and launched for search engine users. Due to being envisaged, created and managed from within, the customer has been at the heart of the campaign at every step of their Protect Line journey. From branded customer communications, to merchandise for the sales teams, to filming TV quality adverts for retargeting and making use of Google's API functionalities… Protect Line's search campaign was an all-in decision and smartly executed business strategy which ended up transforming the business into a sustainable entity which is now only reliant on itself for leads.
"For Protect Line, our comparethequote.co.uk brand represents a future which is no longer dictated by unreliable and unpredictable external lead suppliers, and a future in which we don't need to employ the use of agencies because we can rely on our internal marketing function to make the smart choices the business needs to profitably grow." – Chris Reed, Marketing Director at Protect Line
The Marketing team is incredibly proud and excited to have been shortlisted for the 2023 European Search Awards, recognising the pure dedication of the Protect Line team to making the campaign successes.
"Protect Line already feels like it's won, given the success of the campaign, however winning a prestigious European Search Award would be the icing on the cake and would mean so much to everyone, especially the in-house marketing team who've worked tirelessly to get us to this stage. Thank you to the judges for the vote of confidence in getting this far!" – James Holden, Head of Marketing at Protect Line