Introduction
LAZZAWEB, a Google Marketing Powerhouse, is making waves in the world of integrated search with their groundbreaking approach to Google-marketing. They look into a holistic solution that allows businesses to optimize their search engine visibility and effectively reach their target audience through Google Ads and SEO. By synergizing these two marketing disciplines, LAZZAWEB helps clients achieve remarkable results and significantly improve their online presence. With a strong focus on Google marketing, LAZZAWEB's innovative approach is revolutionizing the way integrated search is approached.
The LAZZATOOLS Advantage
One of the key components to LAZZAWEB's success is its proprietary LAZZATOOLS platform. Comprising 24 unique tools, this platform automates and enhances the quality of work, streamlining processes, increasing efficiency, and delivering better results for clients. Another crucial factor in LAZZAWEB's success is the LAZZAWEB Performance Map, which combines Google Ads and SEO data to identify any lack of synergy at the keyword and landing page level.
Impressive Results and Client Testimonials
LAZZAWEB has a track record of producing outstanding results for its clients. Here are just two examples of the transformative impact LAZZAWEB's integrated approach with its new product (Google Marketing PowerPack) has had on businesses:
Geekd experienced a 142% increase in revenue after just three months of having implemented LAZZAWEB's framework.
OS Frisørartikler saw a 59% increase in revenue after six months of utilizing LAZZAWEB's SEO and Google Ads services.
These successes have led to great reviews from satisfied clients. Omar Hardan, Owner and CEO of OS Frisørartikler, had this to say about LAZZAWEB: "It's difficult to put into words how exceptional this company truly is – it must be experienced firsthand. From the top-down, every employee gives a world-class level of service and professionalism. As a business owner for 5 years, I have worked with numerous consultants and companies, but none have come close to the level of excellence exhibited by LAZZAWEB."
The Impact of Winning the European Search Awards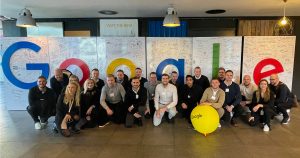 For LAZZAWEB, winning the European Search Awards would be a monumental achievement. This prestigious recognition would validate LAZZAWEB's commitment to excellence and innovation in integrated search, as well as its mission to help businesses achieve their marketing goals. Winning the award would not only set LAZZAWEB apart from its competitors but also demonstrate the effectiveness of its integrated approach and the remarkable results achieved for clients. This recognition would help LAZZAWEB continue to grow and expand its services, as businesses acknowledge the value of integrated search and seek out the agency's expertise.
LAZZAWEB is nominated in the following categories:
1. LAZZAWEB & Geekd – Unlocking Next Level with Google Marketing Synergies:
LAZZAWEB & The Meat Club – Raising the Steaks with SEO: A Delicious Recipe for Growth:
BEST USE OF SEARCH – RETAIL/ECOMMERCE (SEO)

BEST USE OF SEARCH – B2C (SEO)

BEST LOW BUDGET CAMPAIGN (SEO)

BEST SEO CAMPAIGN

BEST USE OF CONTENT MARKETING

BEST USE OF DATA (SEO)
LAZZAWEB & Cykelexperten – Climbing New Heights of Profit through Google Advertising:
BEST USE OF SEARCH – RETAIL/ECOMMERCE (PPC)

BEST USE OF SEARCH – B2C (PPC)

BEST USE OF DATA (PPC)
LAZZAWEB & OS Frisørartikler – Cutting Through the Competition: The Power of Google Marketing dominance:
LAZZAWEB – Best Integrated Search Agency
BEST SMALL INTEGRATED SEARCH AGENCY
Connect with LAZZAWEB
To learn more about LAZZAWEB and its revolutionary holistic approach, visit their website and follow them on social media for the latest updates and insights.