Ascend Online got nominated four times in the European Search Awards in very competitive categories. Woehoe:
BEST USE OF SEARCH – B2C (PPC) (SMALL) 🔎
BEST LOW BUDGET CAMPAIGN (PPC) (SMALL) 💰
MOST INNOVATIVE CAMPAIGN (PPC) (SMALL) 🤖
BEST USE OF DATA (PPC) (SMALL) 📊
Let's start with saying we're extremely proud of this performance and very excited for the award ceremony.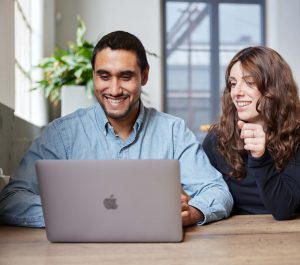 About Ascend
Ascend Online was founded two years ago by Ryan Peerkhan. Ryan Peerkhan is an experienced SEA Expert who specializes in feed management and automation. He works on the most challenging clients for Ascend Online and helps them grow their business by utilizing his experience and speciality. You can imagine when Ryan started Ascend Online he couldn't think of being a finalist in the European Search Awards 2 years later, let alone in 4 categories! It's a dream come true and the perfect reward for our hard work and dedication on servicing our clients with top-notch SEA campaigns.
About the client
The case that secured us 4 finalist spots in the European Search Awards was about Ryan's work for Nederland Vacature. Nederland Vacature is a vacancy platform that offers +8.500 vacancies throughout The Netherlands on Nederlandvacature.nl. Nederland Vacature has a very user friendly platform and offers a variety of services to make it easy for a job seeker to apply. They offer:
Customer service for job seekers to help with their application
Coaching for job interviews
Job alerts when new vacancies are available within a job seekers interest
With their unique platform and services they are a valuable partner for the companies of which they offer the vacancies.
The finalist case
With such a wide and dynamic offer we had to think of a way to automate campaign creation, otherwise this would have been a very time consuming job. Another challenge was the difference in performance between the different vacancy categories and locations. We came up with an innovative and data driven solution that integrated the forecasted performance of a vacancy in the client's feed-based campaign structure.
Results, results, results
This setup resulted in a significant uplift in applicants which is the main revenue driver for Nederland Vacature. We hit all the SEA targets and outperformed them. Nederland Vacature has multiple brands spread across different countries. This campaign setup and strategy was such a success that it will be copied to the other brands and countries, to benefit the uplift in performance.

Final(é) words
The solution we implemented is innovative and data driven yet accessible and applicable to lots of advertisers. By having this case competing as a European Search Award finalist, it gets exposure which hopefully results in more SEA Experts and advertisers implementing comparable solutions.
Again, we're extremely grateful and excited to compete in the European Search Awards as a finalist. We wish all the other great cases all the best and we can't wait to be at the award ceremony in Lisbon!