We are delighted to be shortlisted in the European Search Awards in the Best Small SEO Agency category. It is a huge acknowledgement which makes us proud of our team's efforts and dedication!
About Serpact
Serpact is a small Bulgarian SEO agency established in 2016. One of the most significant things that distinguishes us is the fact not a single team member has left the company since the start.
We have managed more than 2,500 projects overall and received over 80 international certificates and 13 international awards in the past four years.
Serpact is the only Bulgarian SEO agency which has participated in 3 Google events (as a visitor at the first and as a guest speaker at the other two). Our company is also a full member of the Bulgarian E-Commerce Association.
The challenges have started since the agency was founded and continue to the present. However, that has never stopped us from developing and getting better at our work to help various businesses grow, have better visibility online, and stand out from their competition.
Some significant challenges we face are:
Establishing and developing a business in one of the poorest European countries – Bulgaria;

Over 50% of our potential foreign clients stop answering when they find out we are a Bulgarian SEO agency;

Operating a business in a country where tax evasion is a standard practice – we have never done that because it is not our way to grow;

You need powerful corporate connections to get new clients and contracts in Bulgaria – we do not have such friends. We attract clients through our knowledge and professional experience.
All these challenges motivate us even more to learn, grow and upgrade our knowledge and to improve with every passing day. We strongly believe that you need to learn new things and get out of your comfort zone to succeed.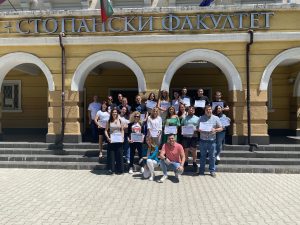 How have we become one of the leading small SEO agencies in Bulgaria?
Nikola Minkov, CEO of Serpact, built a team of 22 SEO experts. The agency focuses on 3 main SEO areas, namely Technical SEO (TS), Content Marketing Strategy (CMS), and Content Promotion Strategy (CPS).
We are a small team, but there are many reasons to be proud. Our clients' success is foremost. ScalaHosting, one of our clients, is an example of this. The business is in a highly competitive niche, and we achieved 140% growth compared to the previous period.
To achieve that result, we made significant changes and built a working SEO strategy:
Redesign of site layouts and elements;

Rewriting the entire code;

Improving loading speed;

Reorganising the overall website structure;

Resolving DNS issues;

Fixing Schema.org markup;

Determining essential landing pages;

Performing mapping of crucial phrases;

Identifying the priority pages and relevant media websites;

Outreaching tech bloggers and vloggers;

Using social media;

Promoting blog articles in media such as Forbes, Guru99 & Tech Radar.
At the base of all the achievements we make together with our clients are well-defined goals and constant improvement of internal processes:
Serpact created a professional development plan of 180 pages for each team member, as well as the company's goals for 2023 and 2024;

We manage an up-to-date database of 172 documents with work processes that help us perform all tasks;

Each team member has a full database access to improve work processes, communication, and SEO project management;

All Project Owners and Project Managers are informed about any ongoing changes within the company, making communication and processes more effective;

We created Log Files with Errors where the Serpact team can report their own or other team members' errors in a document. All team members have access to the document. It helps us avoid specific errors and train our team in the best way;

Based on ten criteria, we created SERP Cards where team members can rate each other on a scale of 1 (the lowest) to 10 (the highest). It helps us choose the right colleague for a specific task based on the client's needs and goals;

We use simplified management processes to manage our SEO projects;

Many benefits are provided to the Serpact team, including free access to the knowledge base, flexible working hours, a hybrid working model, and many more.
Moreover, Nikola Minkov, as CEO of Serpact, created a process called "Memo Notes". Through these notes, each Serpact team member can criticise him, emphasising all positive and negative aspects of his management.
"I founded Serpact in 2016, focusing solely on SERP optimization (commonly known as SEO). I successfully built a team of over 22 industry experts in a short period. Today, Serpact is one of Bulgaria's market leaders.
I try to manage our agency's needs, but I do not like self-governing CEO decisions. I follow the Principles of Ray Dalio! This book and all the principles changed my mind, and now our agencies use the meritocracy notion." – Nikola Minkov, CEO of Serpact, SERP Acad., and SERP Conf.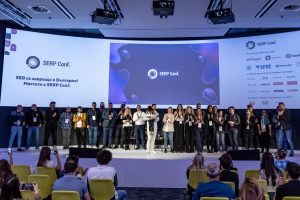 Here are a few short videos to give a complete overview of our company's operations and how some of our colleagues feel about it:
We are also delighted to contribute to what we consider a worthy mission – Serpact launched the first in-person SEO conference in Bulgaria in 2022, SERP Conf., which was attended by more than 300 visitors.
In 2022 Serpact also launched the first fully SEO-focused Academy in Bulgaria, SERP Acad., in partnership with the most reputable university in the country – Sofia University.
We all know that constant knowledge upgrading is one of the essentials behind any successful business. That's why we strive to learn from industry leaders and get answers to our questions from reputable SEO experts. It is the only way to improve, meet our client's specific needs, and help them grow.
Being one of the finalists at the Search European Awards in the Best Small SEO Agency category means we are on the right path. It would be a great honour to win the award and an inspiration to strive for excellence. We are grateful for the opportunity to prove that nothing is impossible and a small SEO agency in a small European country is able to help businesses with huge budgets to grow.