Hi, 6clickz is excited that, on our first try, we are finalists in the "Best Search Software Tool" category. The fact that our innovative tool has made it to the shortlist is itself a remarkable achievement, and we are grateful for the recognition. Our Scarabaeus tool offers a distinctive way to report results and optimize products in Google Shopping. Scarabaeus will help and inspire many specialists and clients.
A little bit about us
6clickz is based in Košice 🇸🇰, Prague 🇨🇿 and London 🇬🇧. We are most keen on scaling E-commerce with paid advertising and data.
Our work covers a broad spectrum of services, ranging from PPC advertising, SEO, and data analytics to tool creation, such as Scarabaeus and 6ixWand, as well as user-generated content creatives. At 6clickz, we pride ourselves on being versatile and adaptable, always willing to explore new avenues and strategies to achieve our client's objectives.
But don't let our technical expertise fool you – we know how to have fun too! We believe in balancing work and play and fostering a positive and collaborative work environment that allows our team to thrive.
We take pride in our ability to tailor an effective strategy that is ideally suited to the unique needs of each of our clients. We understand that every industry is different, and we strive to create a customized approach that considers each client's target audience, overall objectives, and available resources. Our experienced strategists have a wealth of knowledge and expertise in various industries. We are constantly updated with the latest trends and best practices to ensure our clients receive the most effective solutions possible.

6clickz works long-term with clients such as Benu, Hudy, Teta Drogerie, Shoptet, Palmknihy, Footshop, Don Lemme, Havlík Apotéka, Venira, Heliumking, and many more. We are proud to say that our clients trust us for our expertise and commitment to delivering results.
This year, we have been honored to be recognized as a Premier Google Partner. In addition, we are also a Meta business partner, Agency partner, Heureka partner, and Shoptet partner, which reflects our diverse expertise and commitment to working with top-notch partners in the industry.
At this point, you may be wondering what exactly is this Scarabaeus tool (our award-nominated work)?
Scarabaeus is a marketing tool carefully developed in 6clickz, with our clients in mind, that offers a unique way of reporting product optimization results for Google Shopping ads. Scarabaeus connects data and metrics from Google Ads, Google Analytics, and Google Merchant Center and conveniently stores it in Looker Studio.
Google Shopping Ads, specifically Performance Max Campaigns (PMax), are currently the best-performing campaign types for most E-commerce projects. The advantage of this system lies in its automation feature. Alternatively, a significant disadvantage of PMax is the inability to insert keywords. When developing PMax campaigns, we must assume that the product feed contains all relevant keywords for successful marketing. However, the dependency on PMax's automation feature leaves us with severe challenges and concerns that require practical solutions.
Google Merchant Center permits uploading a supplemental feed that allows the modification of product titles and other parameters. Implementing such changes increases the share of impressions in a Google paid search.
As we look at the various Google platforms and their features, we must ask- how can we automate these processes? How can we evaluate them properly? How can we optimize efficiency to drive success? Our answer is Scarabaeus.
While there's so much to say about Scarabaeus and its benefits, I want to ensure you have a brief article. Instead, I invite you to check out our website's blog, where we have a fantastic post dedicated to Scarabaeus that's both informative and entertaining. So feel free to check it out later 😉and if you have any questions, don't hesitate to contact us.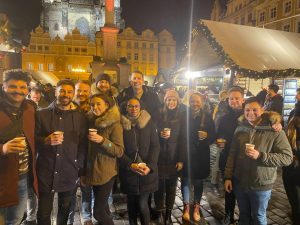 Thoughts on being shortlisted
We feel incredibly fortunate to have made it to the shortlist for the European Search Awards. This is our first time entering the competition, so it feels gratifying to have achieved this recognition right out of the gate. Seeing our efforts acknowledged and appreciated by industry professionals is gratifying. We celebrated this news in the best way possible and are excited to see what the future holds. We are grateful for this opportunity and are motivated to continue pushing the boundaries of excellence in our work.
Get in touch with us:
Website | LinkedIn | Instagram | Facebook