Increasingly won Best Software Innovation award at the 2021 European Search Awards
Increasingly are thrilled to have won Best Software Innovation in the 2021 European Search Awards for our pioneering work with children's clothing and furniture retailer, Scandiborn.
Increasingly's core mission is to help retailers drive basket revenue by accelerating average order value (AOV). Inspired by Amazon's infamous 'frequently bought together' module, our platform leverages AI technology to sell intelligent product bundles on-site and across marketing channels. We believe that by building more relevant online experiences, we can help our customers drive incremental revenue. And the results speak for themselves! Year after year, we've delivered phenomenal increases in performance for our customers.
Leveraging technology to accelerate Google Shopping revenue
Like many brands, Scandiborn struggled to drive multi-item purchases online resulting in a diminishing return on ad spend (ROAS).  So, Scandiborn asked Increasingly to help boost revenue through Google Shopping campaigns.
In order to achieve objectives, we used customer and product data, to deliver hyper-relevant product bundles straight into Google Shopping search results. The aim of this was to encourage Scandiborn's customers to purchase the whole project rather than an individual product.
In just four months, Increasingly was able to drive over six-figures in incremental revenue for Scandiborn. Resulting in +12% revenue with a ROAS 18% higher than the  target set.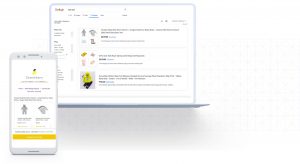 Increasingly earns global recognition in 2021
This award win follows an incredibly successful twelve months for Increasingly seeing the team grow by 34% across the globe, and three other award wins.
This year also saw the company expand its technology offering into new European markets. The successes of which have led to Increasingly being adopted by world-leading brands including Feel Unique, Estée Lauder and Games Workshop.
At Increasingly, we believe that boosting AOV is the future of ecommerce. From the growth and potential of our technology, to the incredible people that drive it, we have been able to successfully drive innovation throughout Covid. Over the next 12 months, we will continue to invest in our technical capabilities and drive meaningful growth for our customers. If you'd like to hear more about Increasingly's product bundling technology, get in touch.