Our Entry into the European Search Awards 2021
It is not uncommon to hear that it is impossible to do creative work with a traditional pharma company. But we are here to prove that this is just a myth!
PHD knew it would be challenging when we got a brief that we needed to promote Bayer's anti-allergic medicines, Nasonex and Clarityn.
The budget was limited, and the sales pick was unpredictable, as people only remember to buy their allergen medicines on the days' pollen's levels are high.
We had to outsmart the competition. Using available API from Weather institutes that also measure Pollen levels daily, we could share our SEA Clarityn/Nasonex campaign to specific areas on high-pollen days, making our campaign super relevant and cost-effective.
By not wasting budget on clear days, we could be on air for a more extended period.
Our European Search Award Win!
Making our client campaign more efficient is gratifying, but being recognized by the most respected SEA award, European Search Award, is a dream come true.
For us, just being nominated and being part of the shortlisted was a victory, but when we heard that we won in the middle of a dark, cold winter, our team went crazy! The news brought light to our Swedish team.
We proudly hang the diploma in our reception. This award has inspired many members of our agency; it became a symbol that creativity has no limits and that incredible ideas can come from any department.
Thank you, European Search Award, for inspiring us.
Our Award Winning Team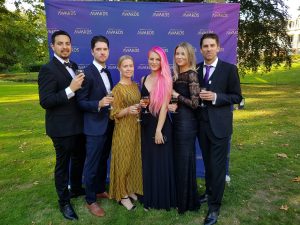 We are seven working at PHD Sweden with SEA/SEM, plus a few working with SEA/SEM.
Omnicom Media Group, OMG, our mother company,  has invested even more in this crucial part of the Marketing Mix. From January 2022, we are launching Sweden Resolution, a performance marketing agency.