Clever Ads – Save time & resources with their free agency tools
Did you know that the average number of apps a marketer uses is 10? If you are still starting out in the digital marketing field, you may think that this is a large number of tools, but if you have been in this sector for a while, you will know that managing your time and using efficient apps can help you save a few hours a day. Time is money!
Clever Ads—tools for managing and optimizing your time & campaigns.
Clever Ads offers your digital marketing agency a series of handy tools that will save you time and allow you to focus on what really matters: your clients.
You can use the different agency tools available to manage your advertising campaigns and automatically generate reports to send to your clients. There's a lot of additional features you'll also find useful to boost your strategy.
From reporting to analytics
Clever Ads software has been built by marketers for agencies, and has several features: 
Manage multiple ad accounts from a single site.

Connect multiple platforms, including:

Google Ads, Facebook Ads, Microsoft Ads, Instagram Ads, and Twitter Ads.

Schedule reports and receive them automatically

Set up and schedule alerts so you're notified about any changes or updates on any of your campaigns or accounts.

Easily share your reports by email, from your screen, Slack or MS Teams.

Discover more extra features and updates!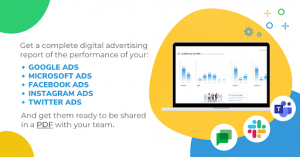 The best features in communication applications
Receive real-time alerts and reports and monitor the performance of your customers' campaigns from your favorite internal communication channel: Slack, Microsoft Teams or Google Chat.
By downloading the right integration, you can quickly set up and customize alerts that will notify you via chat when your conversions go down, when your campaign spend goes up, and more. You'll have full control.
With these integrations you'll be able to save time and have fewer tabs open in your browser. You'll also be able to better organize your daily tasks and those of your team.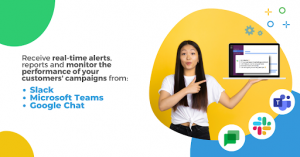 Receive automatic Smart Reports every month 
Scheduling reports to receive them exactly when you want is a breeze. With Smart Reports you can do this and receive the most important data and metrics about your campaigns and your clients' campaigns, as well as their growth trends on your favorite channels.
Smart Reports are a complete performance reports of platforms, such as Google Ads, Facebook Ads, Instagram Ads, Twitter Ads, and Microsoft Ads. 
You won't need to waste time converting all your data into professional and presentable reports. Clever Ads Smart Reports are perfect for sharing with your clients because they are professional and customizable both in content and appearance, to suit your client's brand and your own.
These reports will include metrics such as: conversion funnel analysis, impressions, conversions, conversion rate, and more.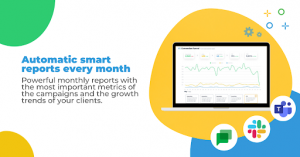 You will also be able to see how your ads and your clients' ads are performing, which ads are converting the best, as well as which traffic sources are performing best. You will even get to see your audience profile.
It is one of the best alternatives to Google Analytics 4 that you will find to monitor traffic and user interaction on your websites or mobile apps, as the transition from Google Analytics Universal to Google Analytics 4 can be too complicated for a lot of users.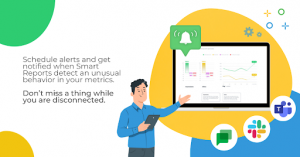 Get all data in one click on Google Sheets
Another feature you will find in the Clever Ads suite of tools for agencies is its integration with Google Sheets. You will be able to easily connect the metrics of your campaigns and those of your clients with the Google tool. Unify all the metrics and analytics of your online marketing campaigns in one place and make strategic decisions with the Clever Ads Google Sheets add-ons.
Wrapping up…
To sum things up, you will be able to increase your clients' campaign performance with these tools for digital marketing agencies. Centralize your clients' campaign information in Google Sheets, configure and receive performance alerts when you need them and receive monthly Smart Reports to send to your clients.
Finally, you should also know that Clever Ads has also developed a mobile application for you to manage and check your strategy on the go, as well as to share information about its performance with your team and your clients. They also have free tools for specific platforms, such as Microsoft Ads and many more! Did I mention that it's free? We recommend that you take a look at their website and discover everything they have to offer.
So you might be thinking, "How much is it going to cost me to integrate all these features?" 
Let me tell you: all the Clever Ads tools are free!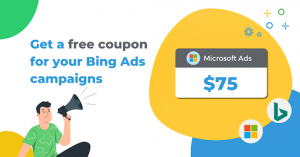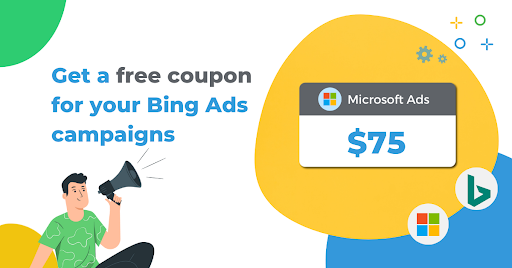 Find Clever Ads on: