Cedarwood has seen substantial growth over the last year or two & are delighted to have had that recognised at a number of awards already this year including the UK Search Awards & Northern Digital Awards, but the European Search Awards had added sparkle as it was a great opportunity to head over to Europe & network with people from right across the continent which is always a great opportunity for knowledge-sharing & a few drinks!
The evening was a great success for us taking home two awards: Best PPC Campaign & Best Small Integrated Agency – the latter being something we are hugely proud of having demonstrated substantial growth along with a genuine desire to look after our staff & equip them with the support, guidance & training that they need to really deliver what our clients want.
Delivering Great Campaigns
Over the last 12 months we're incredibly proud of the work that we have delivered for our clients, but the awards of the night specifically recognised our overall performance for integrated search (predominantly SEO & PPC) & also our work specifically with one of our longest-serving PPC clients Hayes Garden World.
PPC is an ever-changing, ever-evolving field where to get ahead of the competition you really need o be on top of Google's latest products & trends & also thinking outside the box. Our approach to this campaign particularly which involved a mixture of API & Smart Shopping Labelling at a very granular level was one way that we were able to take a client to the next level by clever structure & also innovation – these are two elements that we try to drive consistently through our client campaigns so we are delighted to have received recognition for this!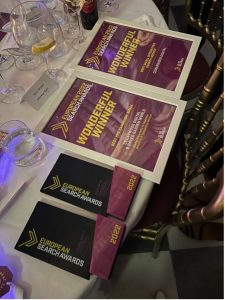 Great Exposure
Within two weeks of the awards we had received a couple of enquiries from businesses in Europe that we would have never been previously exposed to, we're in the initial stages of discussing some great new projects & partnerships so we're delighted with the exposure that the European Search Awards gave us to a broader market, having always focused our marketing primarily within the UK.
We've always seen the value in entering awards, but in particular the European Search Awards allow us to reach a market that we might not get in front of through our traditional marketing efforts & as a business that is looking to grow, this is invaluable
Looking Forwards
The European Search Awards are the first major awards that we have won as a business & demonstrate that we are very much on the path to growth, supported by recognition from a range of industry experts & people we really respect. We look forward to what the future holds for Cedarwood Digital & also entering the European Search Awards in 2023!