About OrangeTalent
We make growth predictable. As a digital full service agency in the Netherlands, we really dig into the business-processes of our clients. We work together with our clients and staff for many years resulting in fantastic collaborations.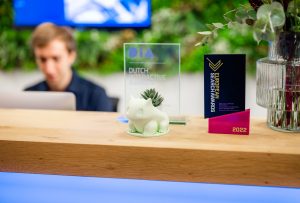 Therefore, we are truly delighted that we are once again nominated for the European Search Awards. It is so nice to see our hard work recognized by the fantastic members of the jury. We are looking forward to the Award show. Last year in Barcelona was truly a blast for our whole team and we are looking forward to this years edition.
This year, we are nominated in three SEO categories with one case. We believe in quality, not quantity. With this case, we really dominated the local SERP's for our client with a smart, innovative and result-driven approach. We conquered over 700 local SERP's in the Netherlands, resulting in a high amount of visitors and conversions. Our client is truly delighted with this solution. We are very proud, because it helped our client survive the Covid-period in several ways and it made him come out even stronger than he was before. And that's what truly matters to us.