2022 was an extremely challenging, but also productive year for the SE Ranking team. We launched four brand-new tools and completely revamped two existing ones. We made AI technologies an integral part of our development process. We've learned to scale our company growth in spite of the global economic downturn and marketing budget cuts. The Ukrainian part of our team embraced the war reality and learned to remain productive even amidst power outages and massive missile strikes.
In spite of all the challenges we feel stronger than ever, and we're extremely proud of what we've managed to achieve. Being shortlisted for the European Search Awards as the Best SEO Software Suite (our whole platform) and Best Search Software Tool (our Rank Tracker) means that all our hard work was recognized by the finest professionals in the field, and this is extremely inspiring. 
We'd love to tell you a bit more about our products, users, and team, who is the driving force of all our initiatives.
Let's start.
SE RANKING PLATFORM
SE Ranking combines dozens of SEO tools for both monitoring and analytics. SEO monitoring tools help users track their website's performance metrics and automate routine tasks (rank tracking, website auditing, backlink monitoring, on-page checking, etc.) SEO analytics tools help users build SEO strategies by providing competitive insights and keyword data, backlink analysis, SERP analysis, etc. We also offer toolkits for content creation and local SEO. Finally, SE Ranking's agency users highly value our automated reporting capabilities and flexible user seat policy for effective teamwork.

Key facts to know: 
SE Ranking has over

800,000

users worldwide, and over

300,000

users from Europe. 

According to the G2 reports over the years 2019-2023, SE Ranking is

one of the top marketing software solutions

. Our score is 4.8 out of 5 (based on 1150+ user reviews.)

Most users praise SE Ranking for offering

a versatile set of tools at a fair price

, and some mention that SE Ranking exceeded their expectations.
You always get more with SE Ranking, including a longer free trial period, more projects, more user seats, free data migration, and onboarding sessions for new customers. 
SE RANKING ENVIRONMENT
SE Ranking is more than a toolset. We strive to help our customers achieve better SEO results in every possible way. For educational support, back in 2021, we launched the SE Ranking Academy, which now offers free SEO Basics and Content SEO courses with more coming. We run blogs in English, Spanish, French, German, and Portuguese where we cover pressing SEO topics and share actionable tips. 
We also regularly organize webinars in multiple languages with regional SEO experts including Aleyda Solis, Barry Schwartz, Dixon Jones, Lidia Infante, Barry Adams, and other incredible people. Back in November 2022 we even conducted our first three-day conference in English, French, and Spanish.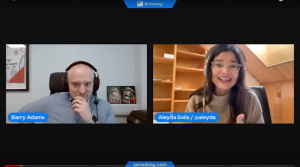 We have a vibrant SE Ranking Community on Facebook we discuss hot SEO topics and share product updates and industry news. We're also active on social media, where we share handy SEO tips, inspiring stories and fun SEO memes. Follow us on LinkedIn, Facebook, and Twitter! 
SE RANKING TEAM
SE Ranking unites over 100 specialists in software development, SEO, content, marketing, and customer success. 
We have offices in Wrocław (Poland), Kyiv (Ukraine), London (UK), and Palo Alto (USA). Many of the team members work remotely and are scattered all across the world. 
We're all passionate about our product and SEO, and we're always ready to take on new challenging goals. Delivering top-notch experience to SE Ranking customers always remains the team's biggest priority.