We are thrilled that once again, Manaferra, a US & Kosovo based SEO Agency, is shortlisted for Best Use of Search in the Third Sector award by European Search Awards. While this is not our first time being shortlisted for such a prestigious award, the pride and joy we feel is the same as when we first read our name back in 2021.
We started Manaferra because we believe people deserve to find the information they are looking for, easily & intuitively. It's been a remarkable journey, and it's times like these that remind us of the hard work and dedication it takes to reach the heights of success. 
Manaferra & BAU: Achieving Record Enrollment with SEO Success
Following our double win last year, this finalist spot is yet another confirmation of how far a talented team can go when they all believe in a shared mission: helping businesses drive growth and create value through search. This is exactly what we did for Bay Atlantic University, helping them double the number of organic leads, organic traffic, and organic keywords that BAU ranks for.
The Strategy
We achieved this by implementing a carefully-crafted SEO and content strategy. The first thing we did was redesign the BAU blog. Their old blog was pinned with posts on university news and events, with the informational content being buried down up to the third page. 
We developed a content strategy that targeted four different personas defined in the SEO strategy. We started creating and publishing content regularly and once the strategy proved that it can generate traffic and leads that convert to students, we scaled that even more. In the 2nd year, we designed and developed a new blog that was better suited for the needs of our campaign. 
Migration to the new blog was executed flawlessly and this resulted in another bump in traffic & leads. Because we were creating great content and it was ranking very well, link building happened organically. Now, BAU gets tens of links each month without any active outreach campaign.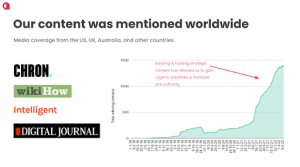 Our strategy continued with on-page SEO, optimizing titles, descriptions, internal linkings, and headings. We also identified and fixed various indexation issues and immediately improved rankings and performance for the identified duplicate program pages. We also did technical optimizations to improve speed, and, in the 2nd year, also migrated the site to a new server for better performance.
The Results
The results were outstanding. In 2022, BAU received the most conversions in its (web) history, including leads, calls, chats – also achieving a 269% increase in sessions. Finally, we almost doubled the number of organic keywords BAU ranks for.
Higher Ed. institutions are one of the biggest spenders in PPC. Very few of them invest in SEO & Content. Our mission as an agency is to change that, we're educating and proving time and time again that there's a better ROI if they (also) invest in SEO and Content.
Since we've started to work with BAU, their applications increased by 270% over Fall 2021, whereas admissions increased by 320% over Fall 2021.
SEO is now their primary method of recruiting international and domestic students. We're in the process of redeveloping the website and we have more growth plans that will exceed what we've achieved so far by a lot. 
What This Means to Us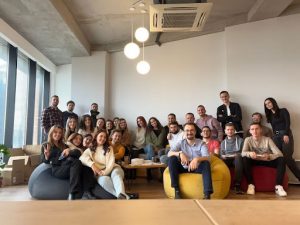 The whole team is ecstatic and we couldn't be more proud of each other. Here's how our co-founders feel about this nomination.



Faton Sopa

, Co-Founder & CEO

Manaferra

"I am incredibly proud to see Manaferra shortlisted once again at the European Search Awards. 

Our unwavering commitment to excellence and our passion for helping businesses grow through search has brought us to this moment. 

It's truly humbling to be recognized among the best in our industry, and I must extend my deepest gratitude to our talented team who continually push the boundaries of what's possible in SEO and Content Marketing. 

This nomination not only validates our hard work but also strengthens our resolve to continue transforming the way higher education institutions attract students through digital channels."



Granit Doshlaku

, Co-Founder, SEO Director

Manaferra

"The outstanding success we achieved for Bay Atlantic University is a true testament to our team's ability to develop and execute a tailored SEO and content strategy that delivers results. 

Seeing the university's organic traffic, leads, and enrollments soar is a powerful reminder of the impact our work can have on our clients' success. I'm incredibly proud of our team's dedication to innovation and their unwavering commitment to excellence.

I'd like to thank the entire Manaferra team for their tireless efforts and collaboration in bringing this project to life. We will continue to push the envelope in the world of search and redefine the digital landscape for higher education institutions, one success story at a time."