About GA Agency
GA Agency is an independent digital marketing agency covering every aspect of online acquisition and website performance with our multilingual and international team. We stand out from the competition as we manage international digital marketing projects across 24 countries, covering 16 languages in-house. Our services cover SEO, Paid Social, SEM, Programmatic, CVR and UX optimisation, analytics tracking, data entry and more.
We've built an in-house multilingual team of over 55 digital marketing experts, specialising in different areas such as SEO consulting, paid media, international expansion, copywriting, content marketing, and ecommerce strategy.
As we have grown, we ensured that we built a team of mixed seniority to offer support to our team at all levels (directors, senior managers, managers, senior specialists, specialists, copywriters).
Despite our rapid growth that we achieved in just over 3 years, we maintain a dedicated and tailored approach to each project and operate as an independent partner for clients worldwide. We're proud that we have been able to manage international projects and continue to provide expansion into new markets for our clients, whilst developing new services to offer.
In 2023 we expanded not only into new markets, but have also been able to offer new services including App Store Optimisation, Programmatic, Digital PR, Influencer Services, TikTok Advertising, and Metaverse Marketing. It's important that we ensure we have the skillset in-house to allow us to keep up-to-date with the latest trends and have a forward-thinking approach to new services and our clients' future needs.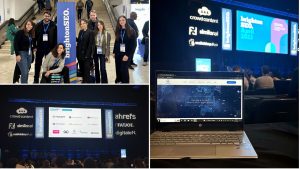 Award Nominated Work
We're delighted that we have been shortlisted for four awards:
Best Use of Search – Retail/Ecommerce (SEO)
Best Use of Search – Real Estate & Property
Best SEO Campaign
Best PAN European Campaign
Our award nominated work for the European Search Awards 2023 consists of two different case studies that we submitted for different nominations. The first is one of our most rewarding projects; our collaboration with a worldwide well-known fashion brand. We've built an excellent working relationship that started in 2019 with a small scope of work mainly based on the Italian market, that grew on a yearly basis. We now manage an international SEO project for them across 15 countries (Italy, Germany, Austria, France, Spain, UK, USA, Hungary, Poland, Portugal, Russia, Switzerland, Japan, Turkey & Sweden).
To stand out from the competition, we built an in-house multilingual team consisting of 36+ SEO experts (SEO directors, managers, executives and copywriters) covering 16 languages.
We would like to highlight the client's satisfaction with our work over the past 3 years from the outstanding results we have achieved, and above all, the renewal with a 50% increase in investment for 2023. We will be increasing the scope of work in the middle of the new year including new countries, and we continue to exceed expectations.
The other nomination was for one of our fastest growing projects last year with a digital real estate platform, expanding into new markets and driving conversions. Our international and multilingual team helped to increase the visibility of a brand that was not well-known, and in a short period has become the clear European PropTech leader. We have been able to understand all their local markets' needs and deliver a profitable campaign with outstanding results.
What Winning Would Mean To Us
Winning would be a testament of the hard work and expertise of our international and multilingual team, focused on delivering outstanding results for all our clients from a range of different industries including travel, luxury fashion, cosmetics, finance, and fitness.
We are an international, multilingual, young and independent digital agency and it's unusual to be able to deliver such results. We have been capable of executing and delivering highly successful campaigns and making our clients satisfied, deepening our relationships further and making more long-term plans. Winning in the European Search Awards 2023 would be an incredible achievement for the agency and our talented team of experts.
We have built our agency around developing a team of local experts, making us exceptional with a unique setup of global coverage and local approach. We believe that this is the way all European projects should be approached as projects are more complex consisting of different countries, languages, and cultures.
You can find out more about us at GA Agency and the digital marketing services we offer on our new website that we launched earlier this year, or keep up-to-date with us on LinkedIn.