Infinitum Agency (located in Riga, Latvia) is a digital marketing (SEO, PPC, Social & data) agency for growth-oriented companies. With 10+ years of experience in the industry, this is a place where industry professionals, the latest marketing trends & technologies, and great personalities come together.
We work with high motivation and spark in our eyes to reach the highest goals not only for our clients but as an agency and individuals as well. In 2022 the agency produced a 2.2M official turnover and despite the changing circumstances in the market and economic situation, the SEO department finished the year with an incredible +54.12% YoY profit increase.
Our 2023 European Search Awards entry
After a short break since our first entry in 2020, we have decided to apply for Best Small SEO Agency once again as our team, processes, client portfolio, and turnover indicators have improved significantly. The main motivation for participating in the competition is to increase the visibility of the agency outside the Baltic region because our work and results speak for themselves and we are ready for the new challenges.
Driving Business Growth through Strategic SEO Solutions
Infinitum Agency's SEO services are intended for Baltic and European businesses with long-term ambitions to achieve TOP positions in Google unpaid results. The growth of search engine optimization is not only measured by organic traffic or keyword positions – the SEO enthusiasts in our team will be an integral part of the overall financial and strategic goal fulfillment plan in any company that we cooperate with. E-commerce, automotive, pharmaceutical, tourism, and other highly competitive industries have enriched the extensive list of Infinitum Agency SEO success stories. In addition, with the rapid increase of SEO demand in the market, it is important not to lose focus on proven and white hat tactics in combination with bold data experiments and innovative, customized solutions. The time has come for you to meet an authentic partner with a transparent approach, measurable return on SEO activities, and an insatiable "appetite" to refute the status of the strongest SEO agency.
Few highlights of our recent work
1. Local non-bank loan providers Ondo.lv and Smscredit are one of our key clients in the finance sector and there's a high competition in this niche. To gain an advantage over competitors we came up with an idea to create a dictionary of financial terms to be published on their websites.
Dictionary/glossary of finance terms for Smscredit.lv and Ondo.lv
For each term, we created its landing page with SEO-optimized content that is relevant and useful for potential borrowers. As a result, both websites gained new keyword positions and additional relevant organic traffic.
Examples:
● https://www.ondo.lv/finansu-termini/kreditreitings
● https://www.smscredit.lv/finansu-termini/kreditvestures-izzina
As both of these websites are owned by the same loan client, it was also important to avoid competition between them – we segmented and selected different finance terms for each website so they do not overlap with each other.
Both websites gained new keyword positions and additional relevant organic traffic (see Ahrefs data below):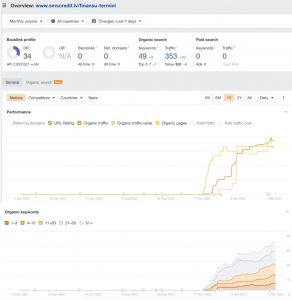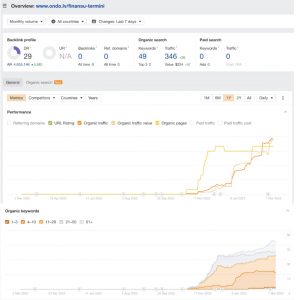 As it can be concluded from the screenshots above, the trend of SEO growth (keywords, organic traffic, organic traffic value) is still observable.
2. Platform migration and SEO recovery plan for https://weightlossriga.co.uk/
The client works in the medical industry. The main target audience is in the UK, which means highly competitive conditions. Until the transition to a new platform, organic visits accounted for 30% of total visits, and approximately 1⁄3 of website applications were directly through the Google Organic channel.
Main problems caused by platform migration:
●  Changes in the structure of internal links of the page without providing a redirect plan.
●  73.8% of total keywords found in organic results were lost
●  81% of keywords in the TOP3 position range were lost
●  Organic visits within the month decreased by 75.7%
●  87.8% reduction in clicks (Google Search Console)
●  72.3% reduction in the number of impressions (GSC)
●  88.5% reduction in the number of applications obtained through SEO visits
We performed a full technical audit. The primary focus was on the rapid development of a redirect plan. The solution was a 2x more intensive half-year plan for internal and external content, focused on the keyword groups important to the client, to recover lost positions and organic traffic as quickly as possible.
3. Improved SEO content strategy and data-driven keyword approach for Given.lv and Given.lt
Our keyword-picking approach required that queries must pass several overlapping criteria for example:
Keyword YoY search volume must be with an increasing trend (Google Keyword Planner)
●  Keyword YoY impressions must be with an increasing trend (Google Search Volume)
●  Keyword search volume must be higher than X
● etc.
The new strategy was applied starting Q4 of 2022. Below see attached screenshots from Ahrefs.com of keywords increase in TOP3, positions 4-10, and organic traffic value.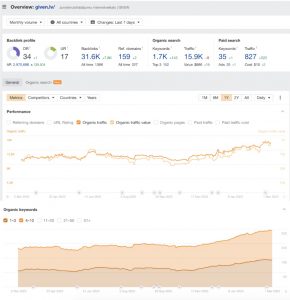 Few other highlights:
●  108.4% increase in organic keywords in 2022 vs 2021 (Ahrefs.com)
●  176.7% YOY increase in TOP3 (Ahrefs.com)
●  Domain Rating increase from 18 to 31 YoY (Ahrefs.com)
●  18.8% increase in non-branded clicks (Google Search Console)
●  50.3% increase in non-branded impressions (Google Search Console)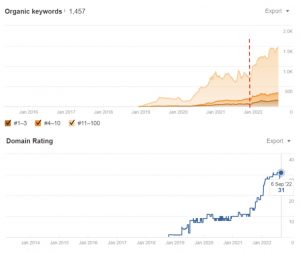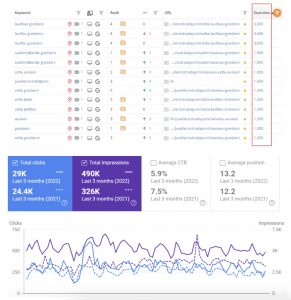 Challenges faced and how these were overcome
The biggest challenges in the last year on top of economic recession and post-covid changes, were:
1. To find a new status quo for setting SEO strategy & goals and comparing YoY results in such changing times. We introduced a new planning strategy that involves several data inputs and looked at keyword overlapping to set the goals with the most gain.
2. Attracting and retaining top talent. We invested resources in the training and talent program to offer trainee positions for new talent in the market and improve existing employee competence. 3. Scaling services and operations. We looked at our clients and added more SEO services to our toolbox (one-time audits, content guidelines, data monitoring, etc.). Invested resources to build new automated reports.
As a result, we were able to:
●  Increase YoY SEO services profit by +54.12%;
●  Decreased our average SEO costs from 31.39% to 28.11% (2022 vs 2021);
●  Onboarded new talents and extended our SEO team from 3 to 6 employees.
We are proud that we have developed a product and team that is delivering growth-proof quality and results for all of our clients.