33 countries with 1 rail Pass
Established in 1959, Eurail gives travellers from all over the world the opportunity to experience flexible, borderless train travel across Europe. With a Eurail or Interrail Pass (for non-European and European residents respectively), travellers of all ages can use an expansive network of train and ferry connections to travel in and between up to 33 countries. Eurail BV, based in Utrecht, the Netherlands, is responsible for the sales, marketing and management of Eurail and Interrail Passes, with 2 official channels: Eurail.com & Interrail.eu.
DiscoverEU and Interrail's 50th Anniversary
Eurail is driven by our company's purpose: to give our customers the chance to create lasting, meaningful connections through travel; while also enabling them to travel in a more sustainable way. Recently we have committed to our purpose with DiscoverEU and our Interrail 50th Anniversary campaign:
DiscoverEU, is a European Union initiative, where Eurail provides the technology and distribution to encourage European 18 year-olds to discover Europe by rail travel.
The Interrail 50th Anniversary campaign marked 50 years of connections and memories made through Interrail travel, climaxing with a flash sale offering 50% off Passes to give a new generation a chance to travel with Interrail too.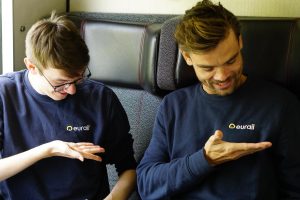 Our SEA Team nomination
Our SEA Team (and wider Commerce Connection team) work on the most relevant platforms and channels to spread awareness about Eurail, generate leads and boost Pass sales.
The European Search Awards nomination means a lot to our team, marking a period of great challenges and successes. After 2 challenging years of change by in-sourcing our former agency SEA support (30+ hours weekly), followed by the impact of Covid the next year, we were able to get Melina on board to help manage all search campaigns across Europe in 6 different languages.
In-sourcing the agency consultancy gave us the opportunity to work more agile and align better with our brand & content specialists. We could simply open up the account ourselves and start better understanding the ins and outs of Google Adwords and Microsoft Advertising. With a new cross-functional team setup, the SEA Team got to work together with our copywriter Theo. He was able to provide us with the best creative copy and variants, and helped us speed up delivery and performance. CTR's really improved as a result.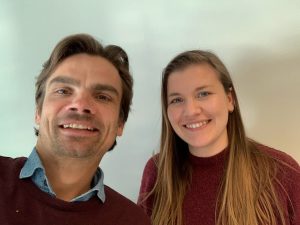 SEA Team testimonial
"In the end it was an amazing ride together, where we managed to get the necessary knowledge and skills in-house, and get the workflow together to test new campaigns and optimize existing ones. The success of our Interrail 50th Anniversary campaign was a huge cherry on top.
To be shortlisted for the European Search Awards means a lot to us. We gave it all to crunch everything out of SA360 and test the different features and ad types of Google and Microsoft's search engines, all of which gave great results for Eurail's campaign quality, product visibility and above all our ecommerce performance.''
Daan Kok, Melina di Luca, Theo Stell
Eurail – SEA Team
For more information, visit www.eurail.com or www.interrail.eu.
Instagram: Eurail or Interrail