Up&More is a renowned digital marketing agency that has been successfully operating in the industry for nine years. Our agency is built on the foundation of expertise and a passion for delivering outstanding results to our clients. 
With a small yet highly dedicated team of professionals, we offer a range of specialized services to meet the diverse needs of our clients.
At Up&More Agency, we take pride in our expertise across various departments, ensuring that every aspect of your digital marketing strategy is handled with precision and skill. Our dedicated departments include:
SEO

: Our Search Engine Optimization team specializes in optimizing your website to improve visibility and organic search rankings. We employ advanced techniques to enhance your website's structure, content, and overall performance to drive targeted traffic.

Analytics

: Our Analytics team leverages data-driven insights to measure and analyze the effectiveness of your digital marketing campaigns. We provide actionable recommendations based on comprehensive data analysis to optimize your strategies and maximize ROI.

Copywriting

: Our skilled Copywriting team crafts compelling and persuasive content tailored to your brand and target audience. We create engaging website copy, captivating blog articles, and persuasive ad copy to effectively communicate your message and drive conversions.

SEM

: Our Search Engine Marketing experts excel at creating and managing targeted advertising campaigns across search engines like Google and Bing. We employ keyword research, ad optimization, and bidding strategies to maximize your visibility and drive qualified traffic.

IT

: Our IT department ensures smooth website functionality, implements technical optimizations, and provides support for any technical challenges that may arise. We focus on delivering a seamless user experience and maintaining the highest standards of website performance.

Graphics

: Our Graphics team brings your brand to life through visually appealing designs, captivating graphics, and engaging visuals. From logo creation to custom illustrations and social media graphics, we enhance your brand's visual identity and create a strong visual impact.

Social Media

: Our Social Media experts develop and execute effective strategies to increase brand awareness, engage with your audience, and drive social media growth. We create captivating content, manage social media campaigns, and analyze performance to deliver impactful results.
One of our notable achievements was being recognized as the best agency from Poland at the European Search Awards 2022. This recognition further validates our commitment to excellence and the exceptional results we deliver for our clients.
In 2023, our expertise and dedication were once again acknowledged as we received the award for "Best use of search – automotive: small" in the European Search Awards competition. This accolade highlights our ability to craft effective strategies and deliver outstanding outcomes, even in highly competitive industries.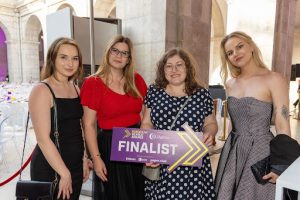 What sets us apart is our unwavering commitment to our clients' success. We take the time to understand your goals, industry dynamics, and target audience to create tailor-made solutions that drive tangible results. Our team stays at the forefront of industry trends, ensuring that your digital marketing strategies are both innovative and effective.
When you choose Up&More, you can expect a personalized approach, transparent communication, and a partnership built on trust and collaboration. Our track record of success, combined with our passion for continuous improvement, makes us the ideal choice for businesses seeking exceptional digital marketing solutions.
Join forces with us, and let us elevate your online presence, drive targeted traffic, and help you achieve your business objectives. Experience the difference of working with a dedicated team of experts committed to your success.